戦国BASARA3
Sengoku BASARA 3
Developer:
CAPCOM
Publisher:
CAPCOM
Director:
Designer:
Makoto Tsuchibayashi
Composer:
Kow Otani, Masahiro Aoki, Rei Kondoh, Masayoshi Ishi, Yasutaka Hatade, Sara Sakurai
Platforms:
PS3, Wii
Release Date:
JPJuly 29, 2010
NAOctober 12, 2010
EUOctober 16, 2010
Ratings:
CERO B, ESRB T, PEGI 16

Sengoku BASARA 3 (戦国BASARA3) is the sequel to Sengoku BASARA 2 released by Capcom for for PlayStation 3 and Nintendo Wii in July 29, 2010. This game was also released overseas under the name Sengoku BASARA: Samurai Heroes. It has received an expansion entitled Sengoku BASARA 3 Utage.
Being released in the new generation of game consoles, Sengoku BASARA 3 received an expected graphical update, which is completely noticeable from the highly improved character's CG quality. Capcom even incorporated AniFace, a high-tech lip syncing system, to make the mouths move.
Contrary to the previous games where each character has a different story background, in Sengoku BASARA 3 there is a common storyline background for all characters. Such as Imagawa Yoshimoto and Azai Nagamasa's deaths during Oda Nobunaga's conquest campaign, then Nobunaga's death at the hands of a traitorous Akechi Mitsuhide. Toyotomi Hideyoshi's forces defeated Mitsuhide at Yamazaki and then proceeded to unify Japan under his steel fists. Just about when Hideyoshi was about to expand his campaign to world conquest, Tokugawa Ieyasu staged a rebellion, which ultimately ended in Hideyoshi's demise and starts the events that lead up to the game.
Due to this background being commonly shared, the characters who are confirmed dead in the setting above will not be appearing in the game and only exist in the reflections of other appearing characters. However, it is said that they are just taking a break, and will eventually return in future Sengoku BASARA games. To compensate for their exclusion, Capcom has promised to bring in a lot of new characters which are spread over all regions of Japan from the north to the south.
New:
Returning:
New:
Returning:
Area Warlords are characters with unique designs, but do not have much role in the storyline and use generic movesets with a few unique attacks. Their mouths will not move in cutscenes.
All playable characters have four base skills (only two initially available like all previous installments), each mapped to a specific button (or combination of buttons) on the controller, meaning that they can be used at all times with out the need of choosing beforehand. Additionally, all characters have three "super skills", and only one can be equipped in the preparation menu before each stage once they are all unlocked. Moreover, priming skills are cancelled in this installment to allow better chances at making combos.
This game adds a strategic element with the base system. In the map there are blue and red patches, which denotes allied and enemy areas. There is an officer standing on a platform in that area, acting as the base commander. Defeating this officer will cause the base to be captured as well as triggering a huge explosion that greatly increases the hit count.
The new ally system is a new feature that is introduced in Sengoku Basara 3, it allows players to bring a bodyguard into battle with them. These bodyguards can range from playable character to area warlord to generic officers to a tiger.
Opening Theme: "Naked Arms" by T.M.Revolution
English Release Opening Theme for E3 2010: "Encounter" by Rei Kondoh
English Release Opening Theme: "Naked arms -English ver.-" by T.M.Revolution
Ending Theme: "Gyakkou" by Chiaki Ishikawa
English Release Ending Theme: "The Last Brave" by Rei Kondoh
Boards
Sengoku BASARA
Games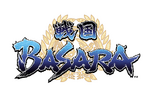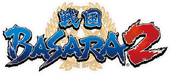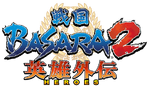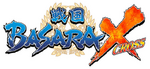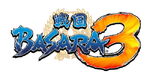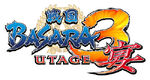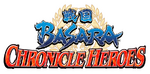 Series
Anime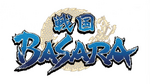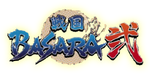 Film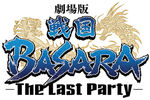 Live-Action

Characters
Sengoku BASARA
Date Masamune • Sanada Yukimura • Oda Nobunaga • Nōhime • Uesugi Kenshin • Takeda Shingen • Itsuki • Xavi • Mori Ranmaru • Akechi Mitsuhide • Kasuga • Maeda Toshiie • Matsu • Sarutobi Sasuke • Shimazu Yoshihiro • Honda Tadakatsu
Sengoku BASARA 2
Maeda Keiji • Chōsokabe Motochika • Mōri Motonari • Toyotomi Hideyoshi • Takenaka Hanbei • Miyamoto Musashi
Sengoku BASARA 2 Heroes
Katakura Kojūrō • Azai Nagamasa • Oichi • Fūma Kotarō • Hōjō Ujimasa • Tokugawa Ieyasu • Honganji Kennyo • Imagawa Yoshimoto
Sengoku BASARA 3
Ishida Mitsunari • Ōtani Yoshitsugu • Saika Magoichi • Kuroda Kanbei • Tsuruhime
Sengoku BASARA 3 Utage
Matsunaga Hisahide • Kobayakawa Hideaki • Tenkai • Mogami Yoshiaki • Tachibana Muneshige • Ōtomo Sōrin
Sengoku BASARA 4
Shima Sakon • Shibata Katsuie • Yamanaka Shikanosuke • Gotō Matabei • Ii Naotora
Sengoku BASARA 4 Sumeragi
Ashikaga Yoshiteru • Kyōgoku Maria • Sen no Rikyū
Sengoku BASARA Sanada Yukimura-den
Sanada Masayuki • Sanada Nobuyuki
Area Warlords
Nanbu Harumasa • Satake Yoshishige • Utsunomiya Hirotsuna • Anegakōji Yoritsuna • Amago Haruhisa
Other Characters
Gohonyari • Naoe Kanetsugu • Miyoshi Trio
Sengoku BASARA Judge End
Sakai Tadatsugu • Isono Kazumasa
Community content is available under
CC-BY-SA
unless otherwise noted.