戦国BASARA真田幸村伝
Sengoku BASARA Sanada Yukimura-den
Developer:
CAPCOM
Publisher:
CAPCOM
Director:
Toshihiro Tanaka
Designer:
Composer:
Rei Kondoh, Yasutaka Hatade
Platforms:
PS3, PS4
Release Date:
JPAugust 25 2016
Ratings:
CERO B
Sengoku BASARA Sanada Yukimura-den is a spinoff game focusing on the life of one of the series' main characters, Sanada Yukimura, released August 25, 2016. This entry marks the beginning of the Retsuden Series.
Characters
Edit
Playable Characters
Edit
New:
Returning:
Non-Playable Characters
Edit
Both Yukimura and Masamune's movesets have been revamped. All six of Masamune's swords being drawn by default, as an example. In addition, both of their younger counterparts have separate skills of their own.
Instead of the typical kill counter, monsen coins are being collected during stages. These are earned by defeating enemies with blue health bars and completing challenges within each stage. These coins can be used to purchase upgrades.
Players will be able to purchase and freely equip/customize various 'styles' to every character. These styles are simply sets of skills meant to enhance various types of gameplay using the Bushin system. These can also be upgraded with the use of monsen coins.

Examples of these preset styles include Attack, Tough, Money, Balance, and Elemental.
Characters will also each have a style specifically tailored to them with special gameplay effects, essentially functioning as Personal Items/Inscriptions have from previous games.

Throughout stages will be enemies carrying rainbow fans. Attacking them will initiate a Rainbow Chance challenge, such as reaching a certain combo, performing dodges, parries, or defeating enemies. If successful these challenges reward monsen coins.
All of the DLC costumes from Sengoku BASARA 4 and the Capcom-affiliated costumes from Sumeragi will be available to purchase with in-game currency. Weapon DLC from Sumeragi is also present, though the weapons no longer change the user's element.
As the player defeats enemies with blue health bars, their Bushin will fill, and each time it completes will strengthen their character in ways such as increasing the damage they can put out, as well as reducing how much they take. On top of this, they will be allowed to make use of various other passive skills.
Blue orbs can be gathered around the battlefield and will allow the player to enter Bushin Denshin Mode (using the R1 and L1 buttons), which forces all enemies around them to appear with blue health bars for a limited period of time.
Game Modes
Edit
Sanada Yukimura's Life Story
Edit
The game's primary mode will be a single lengthy story, focused on Yukimura, which will run more closely to history than most entries in the series, but will by no means abandon the fantastical flair fans are used to. This is spread across ten chapters, which span three eras: Yukimura's childhood, his life as a young man, and finally the Siege of Osaka.
It appears that for the duration of the campaign, characters will be used as the story allows: Yukimura, Masamune, Masayuki, Nobuyuki, Benmaru, Bontenmaru, and Sasuke.
During certain periods of the story, sometimes the player will be able to freely switch between the positions of multiple characters on the battlefield--using a feature called Sanada Blood.
In each main story stage, there are two sets of six optional objectives for the player, called Six Coin Challenges. Completing these earns monsen coins, as well as unlocks the final difficulty level: Sanzu River.
After completing the mode for the first time, players can choose any character to play during each chapter.
Chapter 1 - Budding Azure-Crimson Souls

Characters: Benmaru & Bontenmaru

Chapter 2 - Takeda Annihilation: Battle of Tenmokuzan

Characters: Yukimura, Masayuki, & Nobuyuki

Chapter 3 - Birth of the Rokumonsen

Characters: Yukimura, Masayuki, & Nobuyuki

Chapter 4 - The First Ueda Conflict: Tokugawa Invasion

Characters: Yukimura, Masayuki, & Nobuyuki

Chapter 5 - Odawara Campaign: A White Reunion

Characters: Yukimura & Masamune

Chapter 6 - The Second Ueda Conflict: The Path to Sekigahara

Characters: Yukimura, Masayuki, & Sasuke

Chapter 7 - Kudoyama Imprisonment
Chapter 8 - Osaka Winter Seige

Characters: Yukimura & Sasuke

Chapter 9 - Osaka Summer Siege: Azure-Crimson Chance Encounter
Chapter 10 - Osaka Summer Siege: Sanada Yukimura
Secret Stories
Edit
Side stories that coincide with gaps in the main story, played from the perspective of various other characters from the cast. These stages will be harder in difficulty compared to the main story.
Chapter 1

Benmaru's Daily Life
Bontenmaru's Daily Life

Chapter 2

The Truth Behind The Takeda Annihilation
The Young Oda Generals

Chapter 3

The Hōjō Odawara Occasion

Chapter 4

The Incident at Honnoji
Toyotomi Yamazaki Punitive Battle

Chapter 5

The Toyotomi Tea Master
Kanbei-san and Matabei

Chapter 6

To the Heavens, Cuckoo...
The Night Before Sekigahara

Chapter 9

Setting Sail from Setouchi
Sanada Trials
Edit
A 60-round survival mode featuring 46 playable characters.
The objectives for the stages will vary, ranging from duels to defeating mobs of particular enemies. Completing stages will reward you with monsen coins, with more earned for completing bonus objectives. The trial will end when either your hp reaches zero, or the countdown timer reaches zero. Occasionally, there will be bonus stages where players can attack dolls to increase their timer and Bushin gauge.
Opening Theme: "Committed RED" by T.M.Revolution
External Links
Edit
Official Website (Japanese)
Sengoku BASARA
Games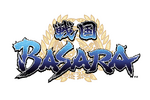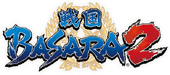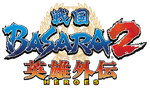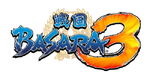 Series
Anime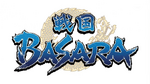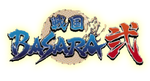 Film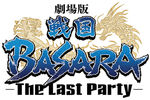 Live-Action

Characters
Sengoku BASARA
Date Masamune • Sanada Yukimura • Oda Nobunaga • Nōhime • Uesugi Kenshin • Takeda Shingen • Itsuki • Xavi • Mori Ranmaru • Akechi Mitsuhide • Kasuga • Maeda Toshiie • Matsu • Sarutobi Sasuke • Shimazu Yoshihiro • Honda Tadakatsu
Sengoku BASARA 2
Maeda Keiji • Chōsokabe Motochika • Mōri Motonari • Toyotomi Hideyoshi • Takenaka Hanbei • Miyamoto Musashi
Sengoku BASARA 2 Heroes
Katakura Kojūrō • Azai Nagamasa • Oichi • Fūma Kotarō • Hōjō Ujimasa • Tokugawa Ieyasu • Honganji Kennyo • Imagawa Yoshimoto
Sengoku BASARA 3
Ishida Mitsunari • Ōtani Yoshitsugu • Saika Magoichi • Kuroda Kanbei • Tsuruhime
Sengoku BASARA 3 Utage
Matsunaga Hisahide • Kobayakawa Hideaki • Tenkai • Mogami Yoshiaki • Tachibana Muneshige • Ōtomo Sōrin
Sengoku BASARA 4
Shima Sakon • Shibata Katsuie • Yamanaka Shikanosuke • Gotō Matabei • Ii Naotora
Sengoku BASARA 4 Sumeragi
Ashikaga Yoshiteru • Kyōgoku Maria • Sen no Rikyū
Sengoku BASARA Sanada Yukimura-den
Sanada Masayuki • Sanada Nobuyuki
Area Warlords
Nanbu Harumasa • Satake Yoshishige • Utsunomiya Hirotsuna • Anegakōji Yoritsuna • Amago Haruhisa
Other Characters
Gohonyari • Naoe Kanetsugu • Miyoshi Trio
Sengoku BASARA Judge End
Sakai Tadatsugu • Isono Kazumasa
Community content is available under
CC-BY-SA
unless otherwise noted.