Welcome to the Sengoku BASARA Wiki!

Sengoku BASARA Wiki contains anything related to the Sengoku BASARA series made by Capcom, from the games and anime, to the characters and stages appearing there.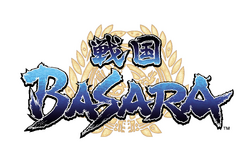 Sengoku BASARA is a game series made by Capcom in 2005. It is produced by Hiroyuki Kobayashi, who is also famous with the Devil May Cry series. To date, twelve games have been released, with the latest, Sengoku BASARA Sanada Yukimura-den, released in 2016. There are also several anime adaptations based on this series. The first aired in Spring 2009, with a second season aired in 2010. By Summer 2014, the series aired another anime adaptation, entitled Sengoku BASARA End of Judgement (Judge End in Japan). Most recently, in spring 2018, an adaptation of the series' anthology comics, Gakuen BASARA has been announced.
The series has amassed many fans due to the stylish moves used by the characters, as well as their appearances which are designed by Makoto Tsuchibayashi, who also did the Devil May Cry designs.

"Put ya guns on!"
Date Masamune is one of the main characters and one of the main protagonists in the Sengoku BASARA series. He was portrayed as the energetic and fearless young ruler of the Date Clan. He was known as "One-Eyed Dragon" (独眼竜,Dokuganryū).
Current To-Do List: Complete all sections for characters that are or might appear in Sengoku BASARA 3. For more information, please see the Project:To-Do List.
August 13, 2009 - This wiki has just been opened, and as such, still under construction. If you would like to help build the wiki, please read the guidelines and templates first. Thank you for your cooperation.